Eleanor Fortescue-Brickdale
(British, 1871-1945)

Eleanor Fortescue-Brickdale was born in 1872 in Upper Norwood, south London, the daughter of a successful lawyer. She studied at the Crystal Palace School of Art and the Royal Academy from 1897-1900. Her exhibition debut at the RA in 1896 was a black and white design, and her earliest work was in illustration. From 1899 she also exhibited large set-piece oils such as The Pale Complexion of True Love in an eye-catching style, frequently with a sharp, almost satirical comment on conventionally romantic themes, recalling the early productions of Millais and Hunt. These became more flamboyant after the turn of the century (eg The Uninvited Guest).
From 1902 she had a studio in Kensington and pursued a dual career as painter and illustrator of fine colour-printed editions of literary texts such as Tennyson's Poems (1905) and Palgrave's Golden Treasury (1925); these being accompanied by regular exhibitions at Dowedeswell and Leicester Galleries of the original watercolours.
Having personal connections with the aviator Charles Rolls, she took an interest in aeroplane technology, manifested in a large memorial picture to Rolls and The Forerunner (1920) depicting Leonardo da Vinci and his model flying machine. Brickdale was the first female member of the Institute of Painters in Oils, 1902, and a member of the RWS from 1903; she also taught for some years at the Byam Shaw School of Art.
In later years her style broadened, and she also designed for stained-glass. Her professional career ended in 1938 when she suffered a stroke. She died in London in 1945.
Primary biographical source:
The Dictionary of Victorian Painters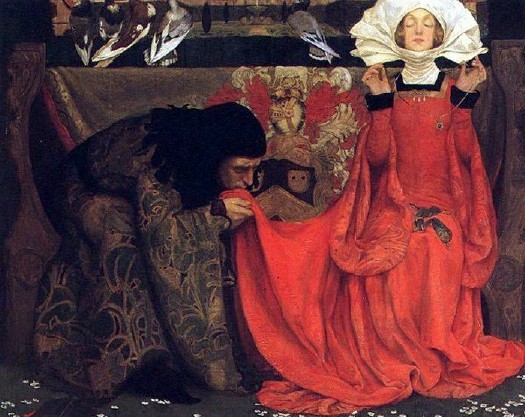 "The Pale Complexion of True Love"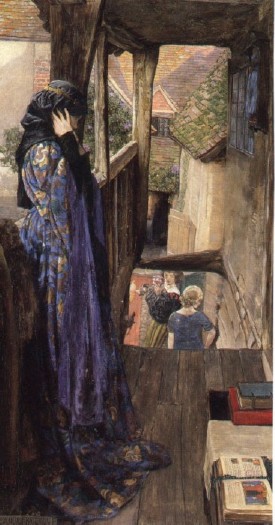 "The Ugly Princess"